The people we love remain with us long after they are gone.  While we may no longer hear their names each day or recall the ordinary moments we have shared, they stay, nevertheless, within us.  Their voices brace our spirits for whatever the future holds and spur us to seek our passions, no matter what the cost.  I continue to hear the voices of my departed loved ones speaking to me each day; they are the force which keep me trying, keep me writing.  In the words of the NIKE ad, they say simply, "Just Do It."
I am happy to announce the publication of my personal essay, "When She Sleeps" in  www.biostories.com.  You may recognize this essay as it appears as the prologue of my novel, MY MOTHER'S SHOES.  Check it out!
Also, I would like to share a new poem which expresses my desire to pursue our passions, no matter what age we are!
WHY I WRITE
I am afraid.
Afraid to look
to examine too closely
that thing which
beats within us all.
Virginia's angry moth, Emily's insistent fly
I do not like to look at them
for fear of getting to the edge
and plunging toward
my own mortality.
And yet I write.
Some say it is a futile task
to dissect the pit of a plum when after all
soon all will turn to ash and earth.
What worth the pages in a desk drawer
if no one bothers to turn the lock?
But does not the simple sparrow delight in the beating of wings against the breast
as it makes a first ascent into the clouds?
Or the bee shiver with ecstasy as it yields its honey?
Or the whale inhale deep such liquid elixir as it plows beneath a wave?
The youth who dares smile as he tastes sweet wine upon the lips?
I cannot but move toward joy—
And if no one ever reads my words,
would I bother to write them?
Yes—I think—yes.
–Shirley Russak Wachtel 7/1/13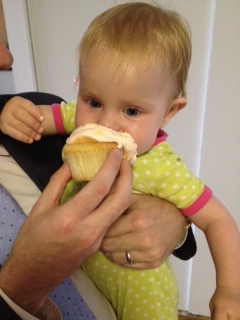 Finally, I want to give a big shout-out to my adorable granddaughter, Zoey Grayson Wachtel, who just celebrated her first birthday.  She is the other voice in my head–the voice of the future.  Zoey, I love you more each day.